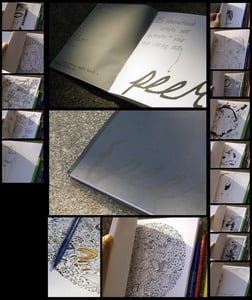 $

48.00
Looking for your own copy of Peer? It's currently available through Little Paper Planes. Click here to Purchase!
peer is one big ol' collaboration of 25 of the most exciting working artists that I know of. each artist drew a self portrait for you to color, so you're actually finishing the piece!
Each print is 8 x 8" on an 8 1/2" x 8 1/2" page, with easy removal for framing. With the incredible artists involved, you might just want to keep it in book form on your coffee table.
So, who is in on this crazy scheme? I think it would be an understatement to say 25 of the hottest practicing artists today:
Kate Bingaman-Burt, Will Bryant, Lisa Congdon, Stephanie DosReis, Camilla Engman, Jessica Gonacha, Frances Hawthorne, Abbey Hendrickson, Jennifer Judd McGee, Sandra Juto, Kelly Lynn Jones, Katey Nicosia (One Good Bumblebee), Hernán Paganini (puloverchito), Shannon Rankin (Selflesh), Danna Ray (Groundwork), Jen Ray ( corduroy.etsy.com), Justin Richel, Julia Rothman, Bonnie Rue (Model Citizen), Heather Smith Jones, Lisa Solomon, Sub-Studio, Shauna Alterio & Stephen Loidolt (Something's Hiding in Here), Julianna Swaney (aka Oh My Cavalier!) and Wolfie and the Sneak.
links to each artist can be found at Wolfie and the Sneak.
We will ship internationally, the price listed is for first class mail, if you'd like something quicker, shoot us a note and we'll let you know how much it will cost!